How To
What is Qoob Stories?
Qoob Stories is an easy-to-use Instagram photo and video downloader. It allows a user to subscribe and download Instagram photos by hashtags, username and location automatically. The application also provides to view Instagram feed on PC and backup your Instagram account.
System Requirements & Installation
Qoob Stories is supported on the following platforms:
Windows 7 and newer
macOS 10.13 and newer
Ubuntu 18.04 and newer (64-bit only).
You can download Qoob Stories from the download page on our site.
Get Qoob Stories
Download
Login
After you launch Qoob Stories, you need to log into your Instagram account in-app. The authorization window automatically appears after the application startup.
Note that the application doesn't store any information about your Instagram account. Your login and password are needed only to access a token request from Instagram.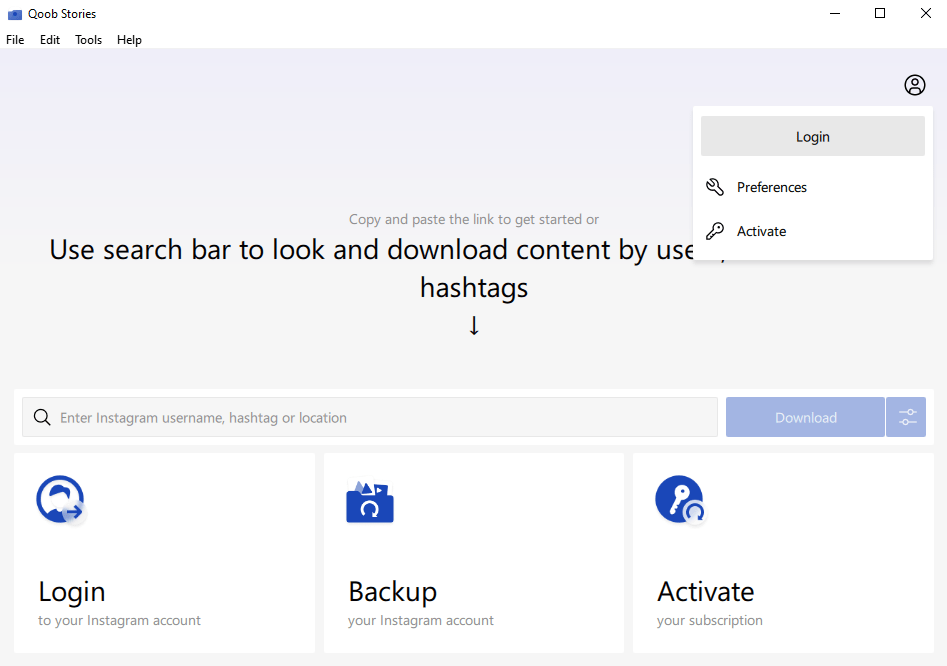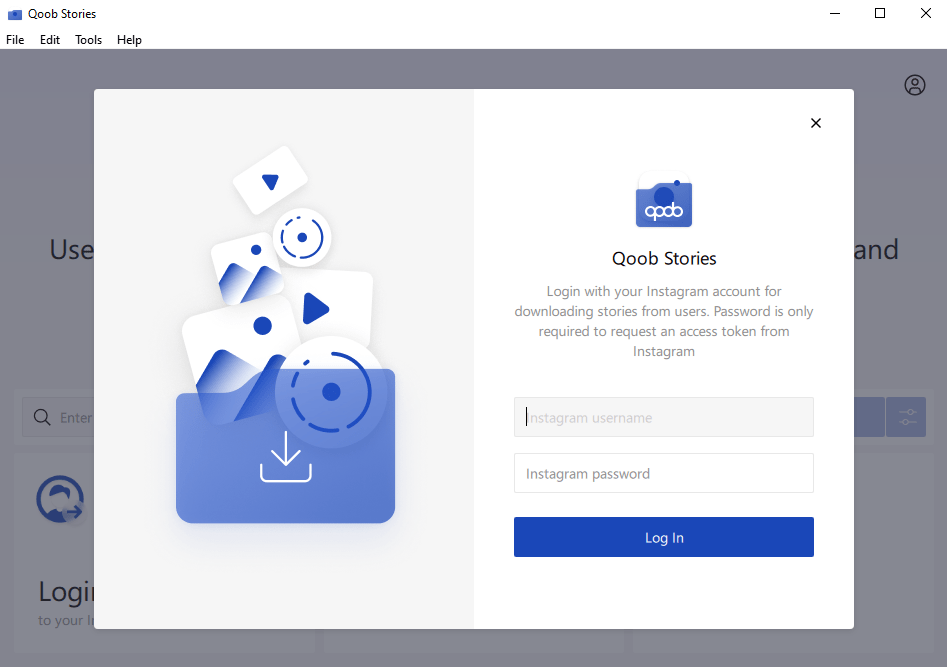 Activation
Before proceeding to download, Qoob Stories subscribers should activate the subscription to lift the limits and unlock the premium features. Free users may skip to the next step.
In order to activate the subscription, at the menu bar click Tools > Manage Subscription, then paste your subscription key into the activation field: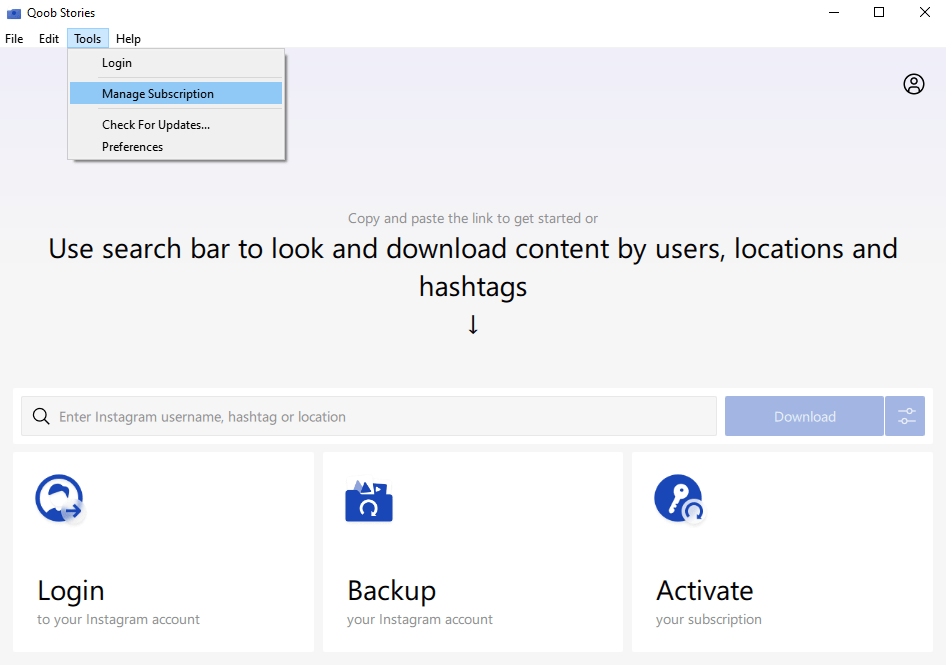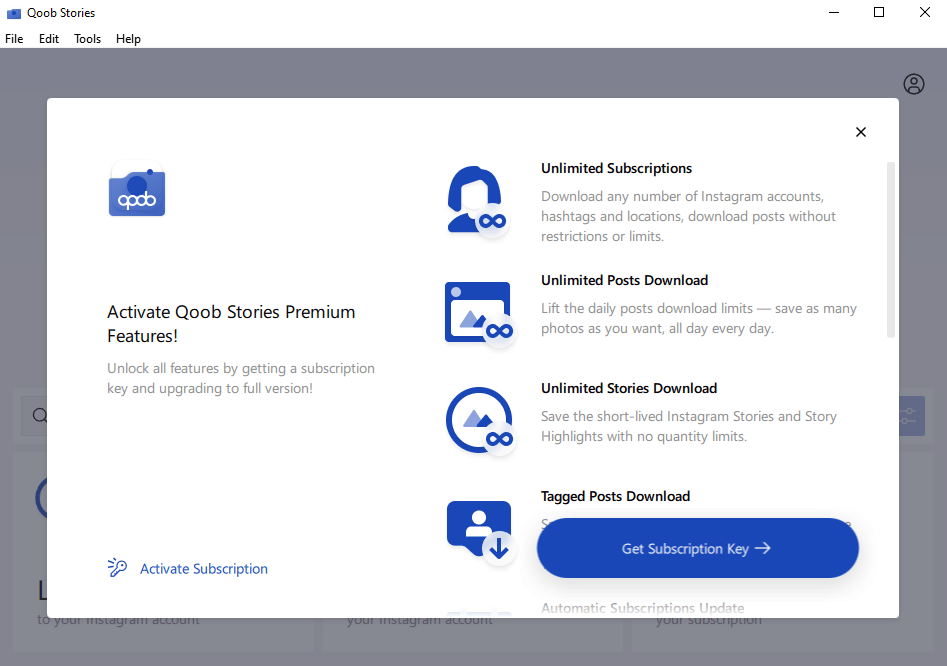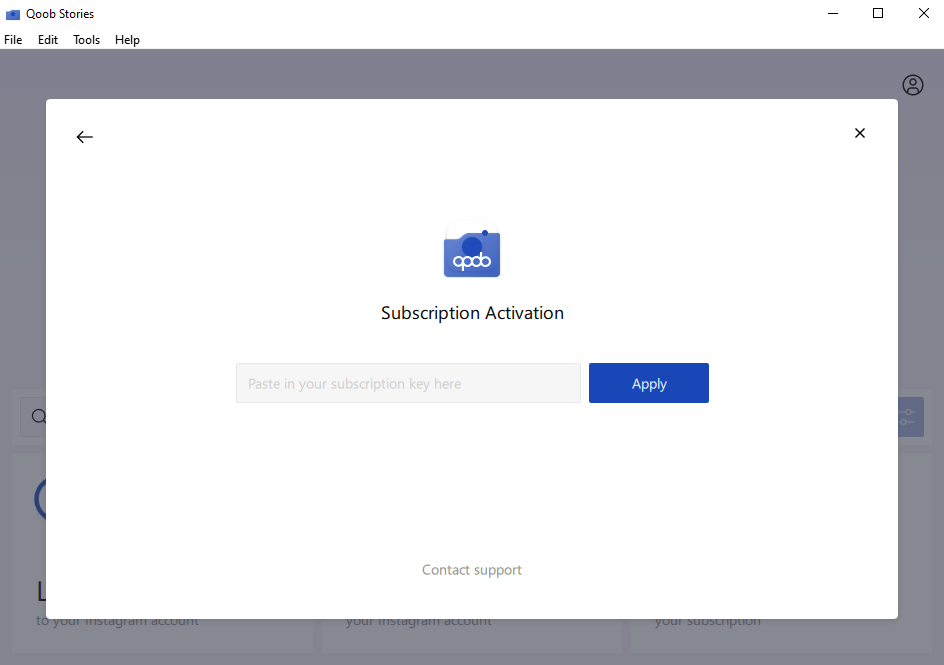 Search
Search is performed in the main window. There are several types of searches that are divided by their type to provide better user experience: by hashtag, username and location.
Hashtag
In order to download Instagram photos by hashtag, type it in the field, using # sign before the word or phrase and click Download: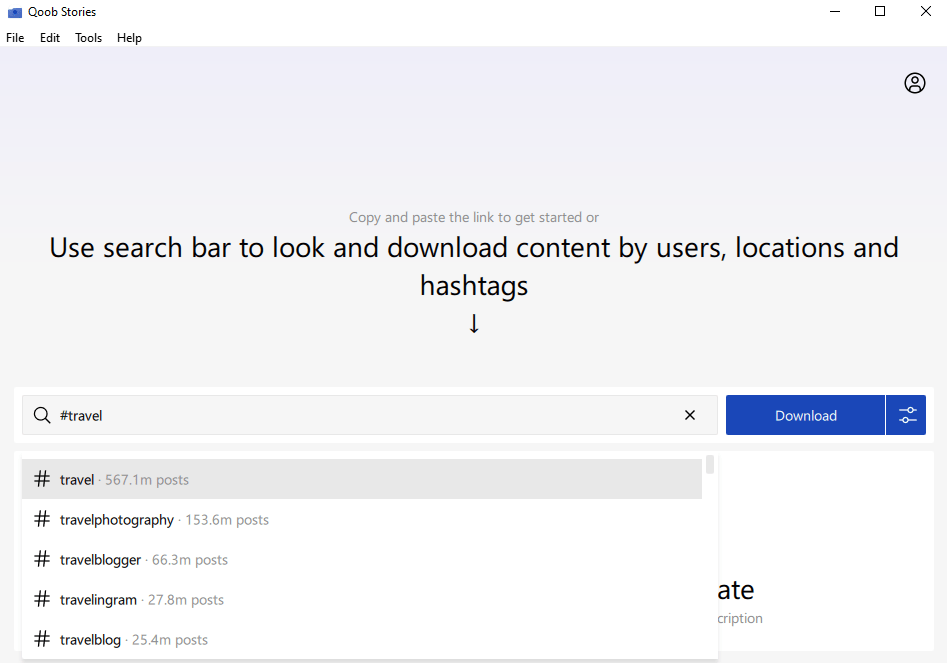 Username
If you need to download Instagram photos of an account, insert their nickname in the same field: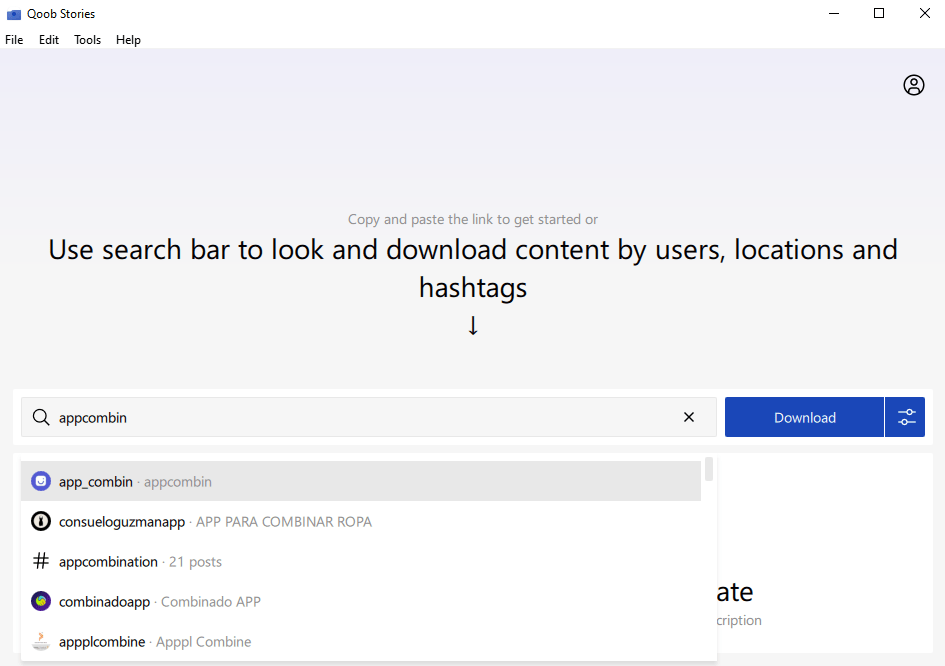 Note: in order to download Instagram Stories or view Stories anonymously of the chosen account, turn on 'Download Instagram Stories' option in preferences.
Location
To download Instagram photos by location, click the highlighted word search places in the field in the top and you will be redirected to location search window, where you need to type in a name of the place: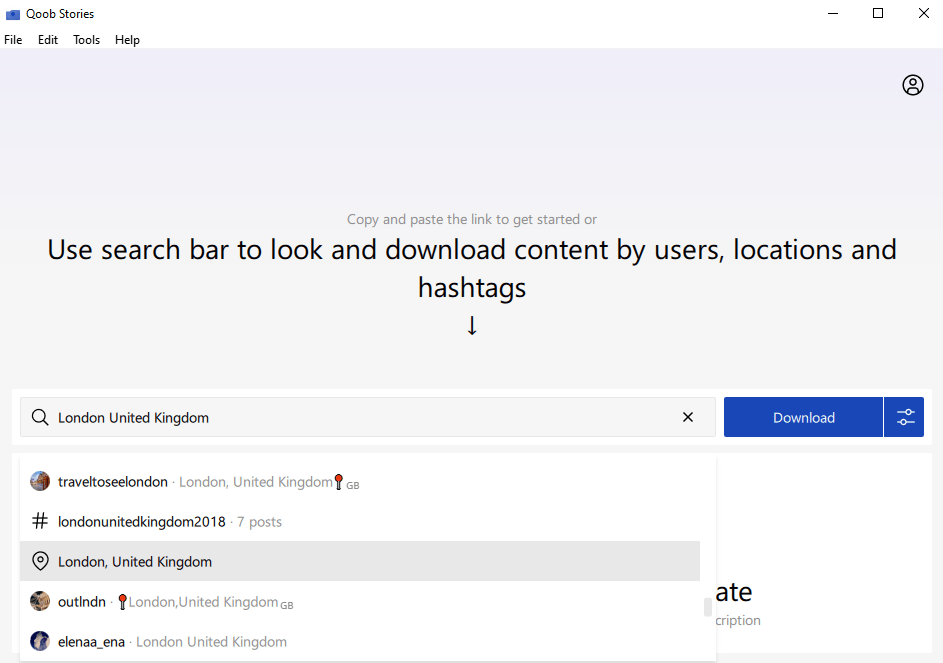 Choose one of the locations from the list and click the Download button.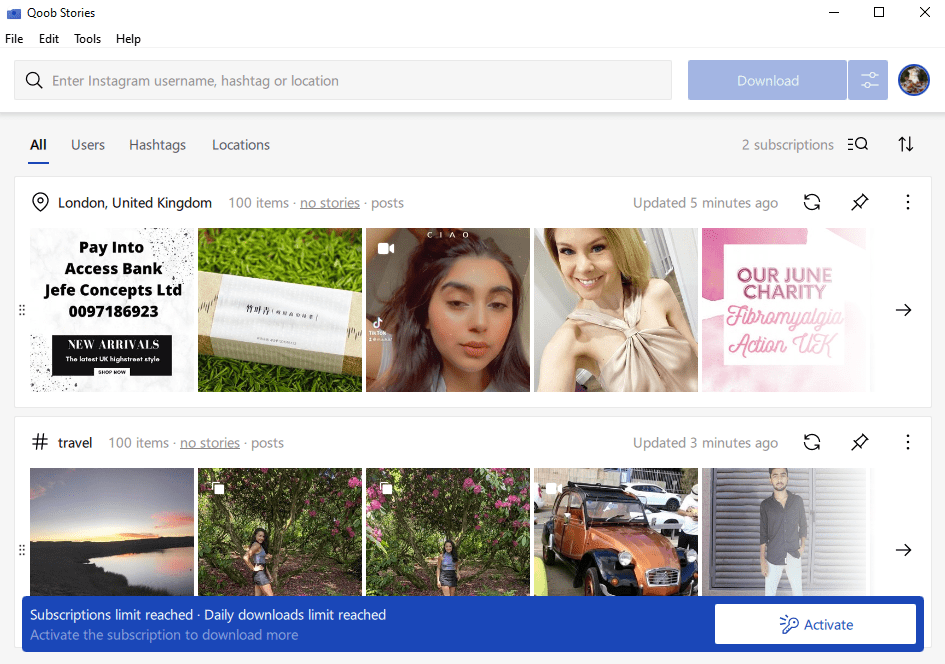 In order to view downloaded photos, do right-click on any picture and choose Show in Folder option in the drop down menu: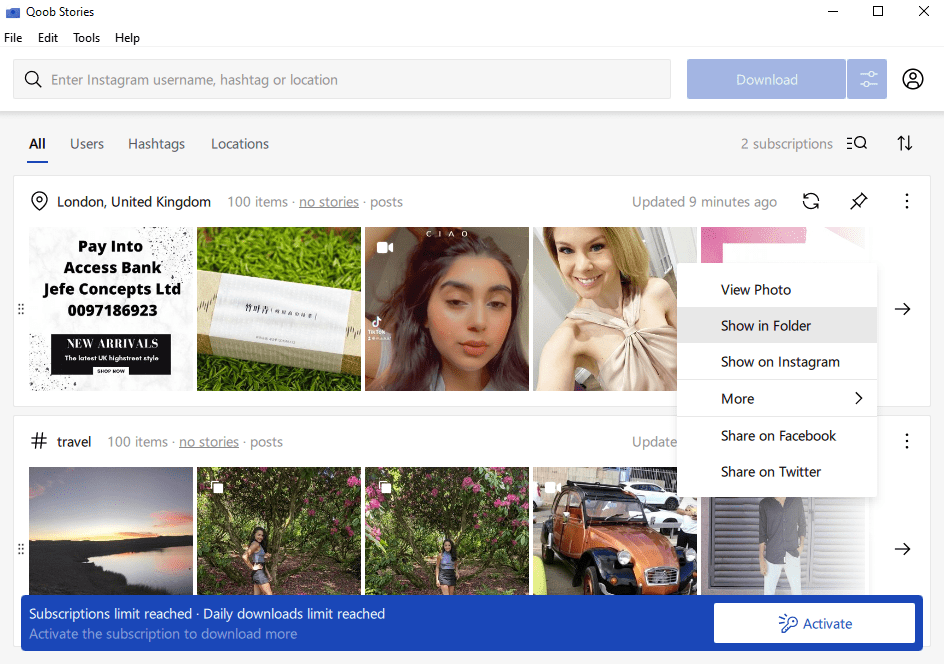 You can also preview images in Qoob Stories application ― click the Arrow sign on the latest depicted picture in the search: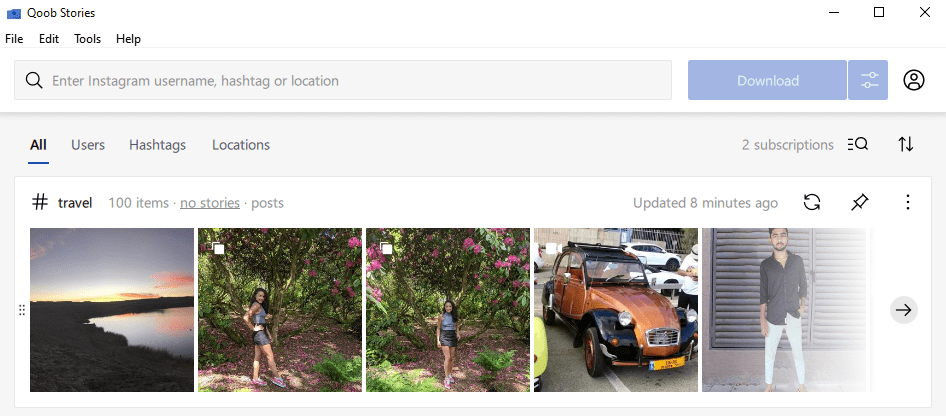 Subscriptions management
Manual update
You can conveniently manage your existing subscriptions via Edit menu. Click Update All Subscriptions to download recent Instagram posts, Pause All Subscriptions to stop all active downloads or Remove All Subscriptions to delete all subscriptions currently added.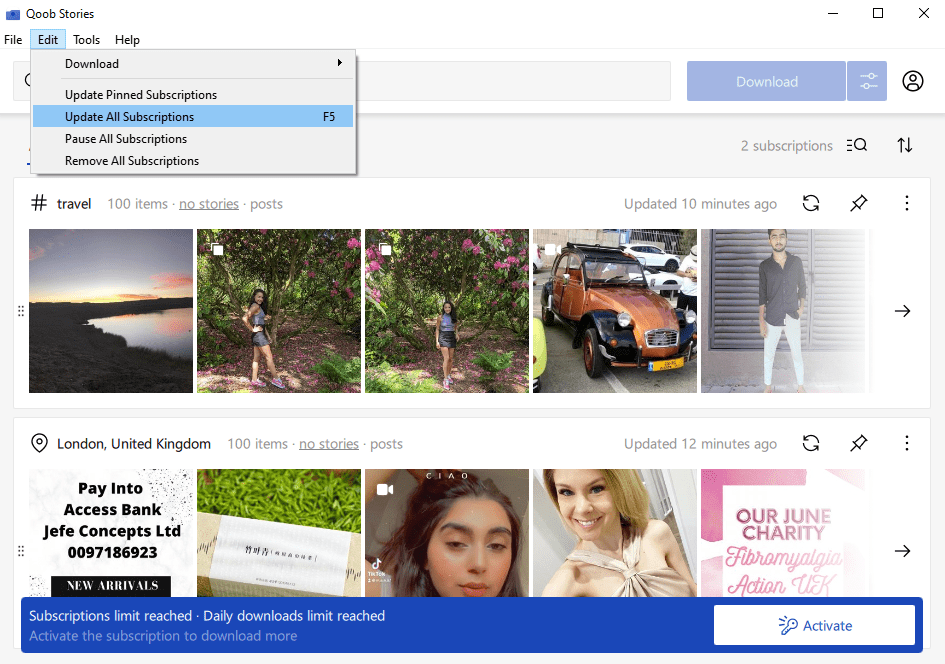 You can also update the existing subscription to download recent photos of one search only by clicking Update Photos button while viewing a specific search: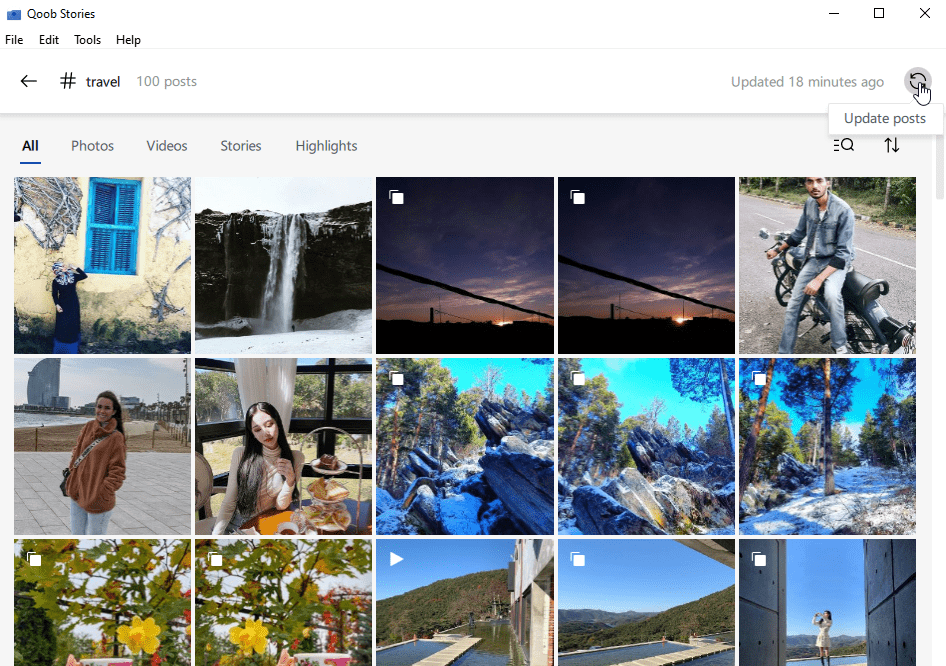 Alternatively, you can update or pause the search by clicking circled arrow sign/pause symbol:


Auto update
You can also set Qoob Stories to download photos automatically and new posts will be downloaded directly to your PC when there is any update.
Go Tools menu > Preferences… and find the Update Period line: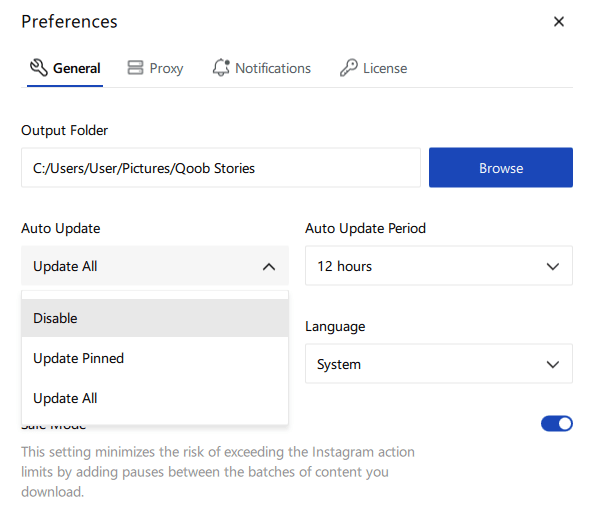 You can set intervals of automatic updating and Qoob Stories will refresh all your subscriptions every 1, 3, 6, 12 or 24 hours and load new posts automatically to your computer.