When you watch an Instagram Story, the Story owner sees your account in a viewers list. But what if you want to view a Story without them knowing? Use third-party tools and hacks!
In this article, we will not touch on the moral side of the question but take a look at the ways and apps to help you stay incognito when watching Instagram Stories.
Whatever the reason, there are many tips and hacks of how to watch Instagram Stories from a desktop or a smartphone. And here they are.
View Instagram Stories Anonymously from Desktop
Qoob Stories
Though Qoob Stories is a free tool for downloading Instagram photos, videos, and Stories from public and private accounts, locations, and hashtags, you can also use it for anonymous Stories viewing, as well. Qoob Stories is available for Windows, macOS, and Linux.
To view someone else's Instagram Story anonymously from desktop, install and open the app, then enter an Instagram username in the search field. The app will start downloading all the content automatically, including Stories and Highlights.
The Stories are marked with a dot-inside-circle icon, so you need to tap on them and view, whether it'd be images, boomerangs, or videos.
Thus, you will view any Stories without an account's owner's knowledge.
Along with this feature, you can back up your Instagram account with Qoob Stories, download photos and videos from public and private Instagram accounts, see other users' feed as your own without following their followings on Instagram without ads, subscribe to any user, location or hashtags right within the app and get all the content associated with it on your PC or Mac.
Browser Extensions
If you want to watch Instagram Stories from desktop, the Hiddengram browser extension for Google Chrome will assist you in this. All you need to do is to add the extension to your Chrome browser and open any Story on Instagram webpage.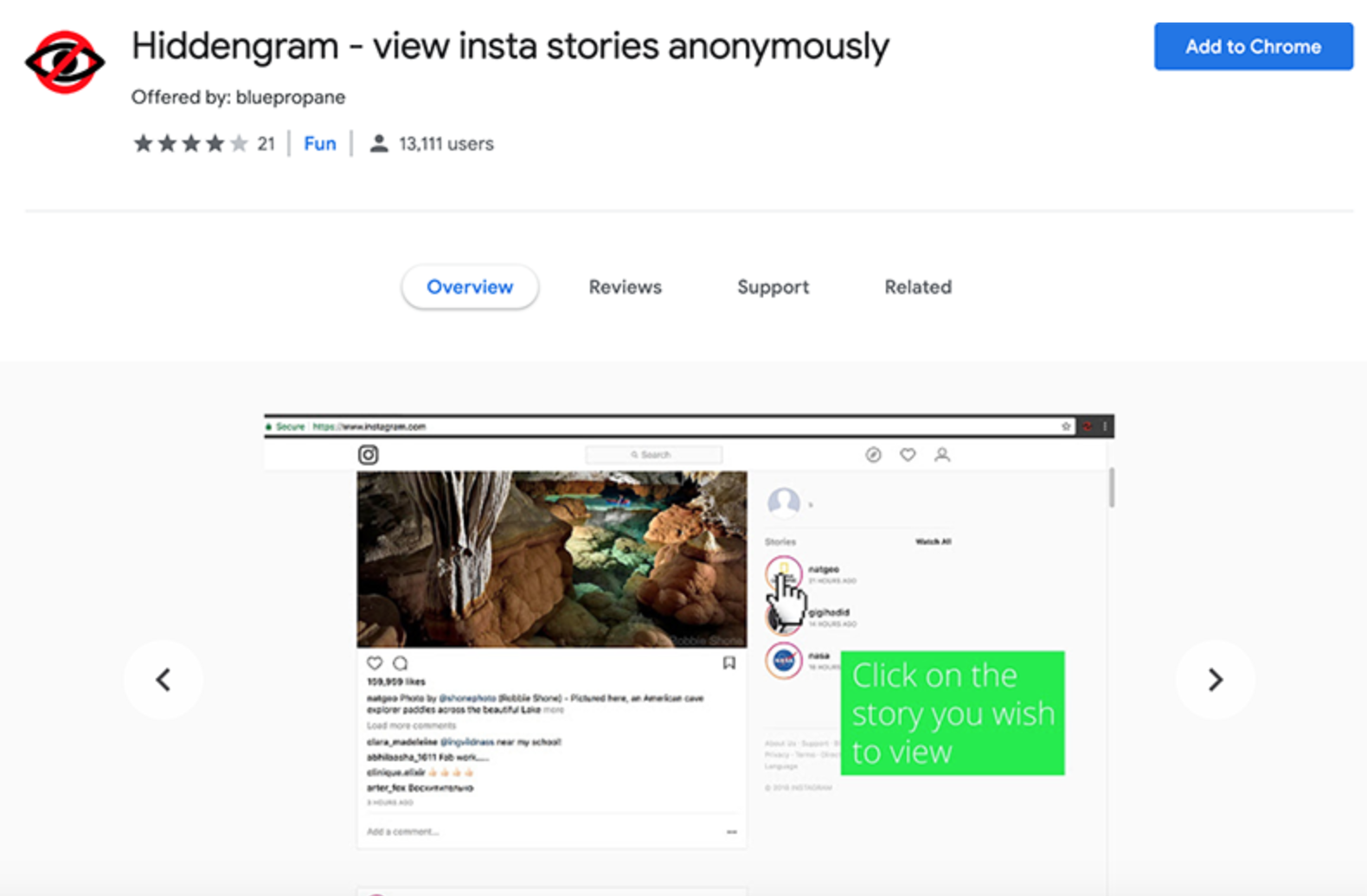 Another browser extension that allows for anonymous Stories viewing is Chrome IG Story. With this extension, you can also download Stories and watch Instagram Live from desktop.
To use this extension, add it to your Chrome browser, then open Instagram and you'll see two Stories raws in it. The upper raw allows you to view Instagram Stories anonymously.
View Instagram Stories Anonymously from Smartphone
If you need to watch a Story from your iPhone or Android, you can install one of the apps on your smartphone and enjoy watching Instagram Stories anonymously.
Profile Plus + Story Reposter
This app for iPhone will help you to view any Story on Instagram.
Profile Plus + Story lets you watch Instagram Stories anonymously without downloading them on your iPhone. All you need is to enter the username and view the full profile without a trace.
This feature is not available when the profile is private!
Important to note is that you can view only 1 profile in 24 hours for free. To get access to more features, you need to buy a PRO package.
Apart from Stories viewing, the app provides you with your account analytics and tracks who unfollows you.
BlindStory
BlindStory allows you to explore Instagram Stories without getting noticed. As the developers claim, BlindStory provides you with unlimited Stories view, search for Stories with no limits, and download Instagram Stories to your Android smartphone.
With the app, you will get access to Stories of any Instagram user. But note that you can't view a Story of the private account user.
StorySaver+
StorySaver+ is an Android app that lets you view Instagram stories anonymously and save them on your smartphone. With this app, you can also incognito view and save Instagram Live, posts, profile pics and IGTV videos.
Other Ways To View Insta Stories Anonymously
You just create a fake Instagram account and view Stories of any user you want, that simple! But note that you can't add your phone number to this account otherwise, people who know your smartphone number might figure out your true identity.
The easiest and the same time the hardest way to view an Instagram Story. Find the Story you'd like to view, and also the Story right next to it, which will serve as a helping hand to watch the target Story.
While you're viewing the previous Story, quickly swipe left, but not completely, and hold it this way. Thus, you will see part of the story.
You have to do everything very quickly to make sure you haven't actually viewed the Story.
Another way to view other people's Stories and stay incognito is to use bots on Telegram, a secure messenger. If you use Telegram on a regular basis, you might find this way very convenient.
If you watch an Insta story this way, the story author will see that a random Instagram account has viewed their content. Meaning, that this Story view won't go unnoticed; it's just not your account which will appear in the viewer list.
To find a relevant bot, open the Telegram search bar and enter keywords, such as 'stories view', 'stories anonymously' and so on. You will see multiple results with bots, like @IGSpyBot, @instasave_bot and others. All you need to do is to click on a bot and press 'Start' if you want to start using the bot.
Then just follow the bot instructions.
Wrapping It Up
Whatever the reason, sneaking on other users' Instagram Stories may be quite useful. As you see, there are several ways to view an Instagram Story anonymously both from desktop and a smartphone. We recommend Qoob Stories above all since it's safe, free, and has lots of other useful features you will enjoy.